@DidiBenami : "Thank you everybody for the sweet wishes today! Today has been wonderful and Im so grateful to have you in my life! 🙂 xoxo love you!!- me" (October 25th 2011)
"Again, thank you all for the sweet sweet bday wishes I really appreciate it! It really shined some amazing light on yesterday! I love you all and can't wait till November 3, on ABC's PRIVATE PRACTICE, you're going to hear a really beautiful song that will be released especially in honor of the program. There will be two must-have versions of the PRIVATE PRACTICE song. One of them is a duet with Keaton Simons and I… yay!! :)" (October 26th 2011)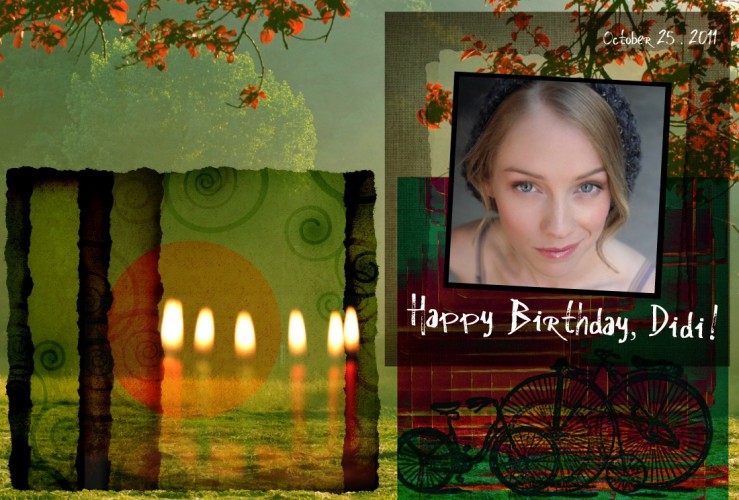 "Happy Birthday Didi Benami" Official American Idol

From the Fansite. Check more stuff @ DBfansite.com
Didi received heartwarming messages from Twitter and Facebook. We couldn't feature all of it due to limited space but we handpicked some!

David Simons (on FB): Happy Birthday to an exquisite, awe-inspiring artist with the voice of an angel. I hope you had a great day. Thank you for sharing your amazing gift. 🙂

@MyMusicDen : Happy 25th @DidiBenami ! You are beautiful inside and out. We wish nothing but the best for you. God bless u & keep u…

Carly Turner (on FB): Happy day of birth miss Didi can't wait for your album! GO LIBRAS!!!!!

@Mandyi44 : Happy Birthday @Didibenami !! I hope you had a great day and get everything you wish for!!

@craftymom123 : @Didibenami Happy, Happy Birthday, Didi! It sounds like you are having a wonderful day! You deserve it!!

@gsierra21 : @Didibenami May God grant you many wishes, on your very special day, may he fill your life with riches, I wish you a happy birthday! 😀

Rhett Garcia (on FB) : Didi, I hope the b-day is AWESOME. For your birthday, I wanna say that I hope life in general is good. That you're surrounded by peace and love and that your face reflects the happiness in your life:) You deserve this! Be safe, MY beautiful friend. It makes me smile when I read the updates in your messages. From ear to ear. Love and Light, sweet Didi!! ♥♥ TEAM BENAMI ♥♥

@11disneygirl11 : @Didibenami HAPPY BIRTHDAY!! i still love you and your voice, and the things you say r so inspirational! ty!! have a good day, & god bless(:

@anassparrow : @didibenami Happy Birthday DIDI.I hope you continue making music with your beautiful voice.May God bless your life journey 🙂

@DannieS7 : @Didibenami Happy Birthday!! Mazal Tov! 🙂

@DewyzeAmber : @Didibenami HAPPY BIRTHDAY!!! to one of the most amazing singers ever!!!!! Hope your days has been sweet and amazing like you 🙂

GladysMavis : Happy birthday to the most genuine #Scorpio with a #CancerMoon (next to the great Jaclyn Smith that is…) @Didibenami. Didi, you're a savant

@KellKell30VI : @Didibenami Happy Birthday Didi. May all your wishes come true today and everyday.

@GetDidiSigned : Happy 25th birthday to the lovely and talented @Didibenami! Didi, we love you and hope you had a wonderful day!

@nishakira : HAPPY BIRTHDAY @DIDIBENAMI!!!! Hope it's already past midnight there. May you have a long beautiful life ahead of you. God bless you,love!